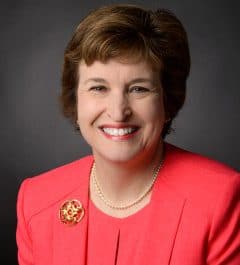 Dr. Leslie Neal-Boylan
December 22, 2016
She Practices What She Teaches
Meet Dr. Leslie Neal-Boylan, Dean, UW Oshkosh College of Nursing and Valley VNA Board Member
By Gina Larsen, guest
The vintage nurse's uniform on display in Dean Leslie Neal-Boylan's office immediately caught my eye on my recent visit to the UW Oshkosh College of Nursing. Think early "Call the Midwife," but with small brass JH pins on each side of the cape's collar, initials for Jewish Hospital in Brooklyn where Neal-Boylan's mother worked as a student nurse. "I am a third generation nurse. My grandmother graduated from nursing school in 1920 and my mother in 1953," the dean began, "but that's not to say I started my life wanting to be a nurse. In fact, I tried very hard to run away from it."
Today's academic leader of the well-respected UW Oshkosh College of Nursing (CON) actually began her college years on a very different trajectory: none other than a member of the first co-ed class at West Point Military Academy. It was 1976 and Neal-Boylan had a brother at West Point. After announcing it would accept women for the first time in history, the academy became a viable option to the only other career choice she had considered thus far – her grandmother's and mother's field of nursing. Whether an act of rebellion or self-exploration, Neal-Boylan completed basic training and a year at West Point Preparatory School only to realize her career choices were not that much improved. "I would spend four years at the academy which was an engineering school at that time, plus a five year military service obligation." In crisp military academy style, she did an about-face and marched to Rutgers University in Camden, New Jersey, and enrolled in nursing school. By 1981, she earned her B.S.N; in 1992, her master's in nursing; and in 1998, her Ph.D.
Married to a career military man for 24 years, Neal-Boylan and he raised their four now-grown children at U.S. military posts around the globe. She built a strong résumé around clinical nursing, research, teaching, and academic leadership positions up and down the East and West Coasts. In fact, Oshkosh, Wisconsin, has taken her the farthest inland of her career. So why Oshkosh? "I love to discover new places. The College of Nursing at UW-Oshkosh has the highest nursing board pass rate in the state and it's significantly higher than the national average. I came to Oshkosh not only as an academic, but also to continue practicing as a family nurse practitioner," Neal-Boylan replied. "And I've been at this long enough to believe I have knowledge to share, and I want to give back." Of particular interest to Neal-Boylan is the evolution of nursing. "The levels and complexity of science, technology, and autonomy involved in modern nursing are much higher than ever before."
Through her discovery of Oshkosh – both the campus and the wider community – Neal-Boylan volunteers at the Living Healthy Community Clinic, a clinic in Oshkosh for uninsured and underinsured people. Run by the UW Oshkosh College of Nursing in partnership with community agencies, volunteering there and at the campus student health center affords Neal-Boylan the chance to practice what she teaches. "I never want to give up direct patient care. It's very important to me," she said.
Neal-Boylan's roots as a young home care nurse working with geriatric patients are what attracted her to accept an invitation from CON instructor Theresa Pichelmeyer to tour Valley VNA in Neenah with the goal of joining the board of directors. Pichelmeyer, Valley VNA President and CEO, revealed to her a very special organization. "There is a depth of thinking at Valley VNA that impressed me. We think about how our decisions will genuinely impact residents and families and our staff. How will our decisions make people feel? A lot of care and thought goes into our decisions, even as we consider our corporate and financial obligations," Neal-Boylan said. She encourages UW Oshkosh CON students to work at Valley VNA, an organization that flexes to meet students' rigorous academic schedules.
Neal-Boylan and her second husband, Dr. Kevin Boylan, a professor of history, accepted positions at UW Oshkosh at the same time in 2015. An involved mother and grandmother, Neal-Boylan is often on the road to visit her son, a major in the U.S. Army, helicopter pilot, and father to her two young grandsons; a daughter, the manager of A Barrel of Monkeys theatre organization in Chicago; a son who works in finance in Washington D.C. with a passion for creative writing; and her second daughter who works as an office manager in Oregon. "That's what happens when you raise a family in the military. You can go anywhere," she laughed. "I am very happy I came to Oshkosh."
To learn more about Valley VNA Senior Services and our board members, please call (920) 727-5555.