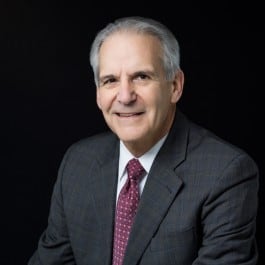 Joe McGrane
July 6, 2016
By Gina Larsen, guest
Joe McGrane is tall and lanky, a man of warm and quiet demeanor. He is also a faith-filled Catholic from a family of 11 children who once considered the seminary, a Vietnam veteran, a husband and a father. His career path has taken him from an undergraduate economics degree at Loras College in Dubuque to law school at the University of Iowa to the trust department of what would become Bank One Trust Company in Neenah. In 2004, he co-founded Legacy Private Trust Company in Neenah, where I met him to find out more about his connection to Valley VNA and his seat on its board of directors.
I learned Joe doesn't have a single connection to Valley VNA; rather, he's spent a lifetime cultivating values, relationships, and perspectives that make the people of the VNA—staff, residents, and fellow board members—a natural fit for his heart and service. The very first thing he said to me was, "How can you not help but fall in love with VNA?" And then, after a pause, "How can you not want to help a person like Theresa Pichelmeyer? Theresa is so good at her job. She's always been very clear that she needs the board. She depends on us for helping to make business decisions so she can focus on caring for people."
The VNA call to service came in 1999, with an invitation from Frank Kearny , current Valley VNA board president, whom Joe describes as a fascinating friend and "bright, gutsy, visionary, full-steam-ahead" kind of man. "He told me he needed me on the board, and I could expect to meet just four times a year. For a while, four times a year turned into four times a month." Joe quickly internalized the important work of Valley VNA, "… for the residents, for the community, and even for ourselves someday. I was drawn in because I thoroughly enjoyed working with Carol (Ventura, then-VNA president) and Frank and the staff. I've gotten really attached."
The next few years had board members on the road, traveling to tour and inquire about the structure and design of non-profit mission-driven senior care organizations. "We had to ask ourselves, 'What are we known for? Who are we? Who do we want to be?'" Initial plans to build a nursing home were scrapped, excess property was sold, and a new administrative and common area for residents was built.
Naturally pensive, Joe understands the importance of that first call from Frank Kearny nearly 17 years ago. He also marvels at the others who changed his life trajectory: the high school nun, his chemistry teacher, who ignited in him a passion for learning and college; the college faculty advisor who redirected him to law school, and the bank president who influenced him to move to Neenah in January 1980.
Joe calls these individuals pivot people—people who change the overall course of your life with a call, a word of advice, or the planting of a seed that may lie dormant until the right conditions cause it to germinate and grow. "It makes me think carefully about what I say, too, because I could be someone's pivot person."
Joe's father resided in a memory care unit in his adopted state of Texas for three years before his death a year ago at age 98. Joe lost his mother two years earlier. During visits with his dad, the two would simply sit quietly, watch a movie, or venture down whatever memory lane his father chose. "I tell my siblings that I think Dad remained with us for those three years for us, to see that his personhood remained intact, to the very end of his life's long journey. That's at the heart of why I work for Valley VNA, because every life has value."
If you have questions or comments about the operation of the Valley VNA board of directors, please read more of our recent board member profiles or feel free to contact Theresa Pichelmeyer, Valley VNA President & CEO, at (920) 727-5555.