Over 100 years of service.
Valley VNA has a rich history filled with care, compassion and love for the community.
Scroll down to read our story.
Neenah-Menasha Visiting Nurse Association is Established
1908
In 1908 the Neenah-Menasha Visiting Nurse Association was established to meet the health needs of families in their homes. Ida Heinke was hired as the first visiting nurse and visited over 100 patients in their homes during her first month.
VNA Formally Affiliated with National Organization
1917
In 1917 the Neenah-Menasha VNA became formally affiliated with the National Organization for Public Health Nursing.
Expanded Focus Includes Children
1920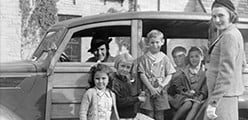 During the 1920's and 1930's the VNA expanded its focus to include children. Well Baby Clinics were organized and the first Child Health Center was established.  By the end of the 1930's the VNA's staff included four nurses.
VNA Auxiliary was Founded
1922
In 1922, the VNA Auxiliary was founded to raise money for supplies.  This organization helped fund the VNA until it disbanded in 1977.
VNA Finds a Long-Term Home
1938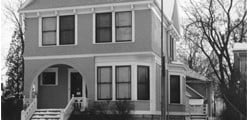 In 1938, the VNA found a permanent home at 115 East Forest Avenue in Neenah. The house provided needed space for the nurses to work.
Pre-Natal Classes for Mothers and Fathers
1940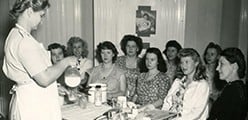 In the 1940's pre-natal classes for mothers and fathers were started and held at the East Forest home.
Expansion into Rural Areas
1947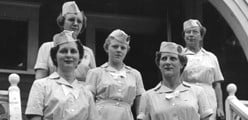 A fifth nurse joined the VNA in 1947 and the service area expanded to rural areas.
VNA moves to Wisconsin Ave
1950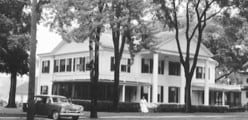 During the 1950's the VNA moved to a house on Wisconsin Ave., generously donated by the Kimberly family.
Assisting Theda Clark Hospital Practical Nursing School
1953
Theda Clark Hospital began a practical nursing school in 1953 and partnered with the VNA to train students in home nursing.
VNA 50th Anniversary
1958
The 50th anniversary of the Neenah-Menasha Visiting Nurse Association was celebrated in 1958.
Meals-on-Wheels Program Begins
1966
The Emergency Society and King's Daughters Service Circle of Neenah began the Meals-on-Wheels program in 1967. Valley VNA began coordination of this program in 1974.
In-Home Care and Homemaker Companion Programs Expand
1980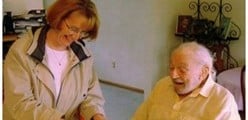 During the 1980's Valley VNA expanded the In-Home Personal Care and Homemaker Companion programs and increased their attention on senior care through the Medicare/Medicaid Skilled Care Program including hospice and therapy programs.
Valley VNA Moves to Bell Street
1994
In 1994 Valley VNA moved from Wisconsin Ave. to Bell Street. The location provided a headquarters for VNA administration and all medical and non-medical care programs.
Assisted Living Community Opens
1998
Valley VNA's assisted living community opened in 1998, providing 92 homes for seniors.
ThedaCare At Home
1999
All Medicare/Medicaid programs were assigned to ThedaCare At Home in 1999.
In-Home Care Strengthened
2000
In 2000, Valley VNA strengthened its senior In-Home Personal Care and Homemaker Companion programs with the acquisition of Supportive Homecare and HomeMaids.
100% Occupancy In All Areas
2003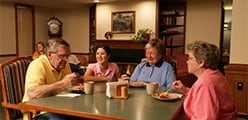 100% occupancy in all areas of the assisted living community was achieved in 2003 and Medical Assistance waiver dollars for assisted living residents was obtained.
Valley VNA Senior Services
2005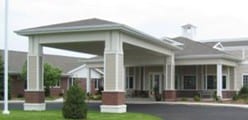 In 2005 the organization began doing business as Valley VNA Senior Services.  A successful capital campaign was launched to support a building expansion project to address the changing needs of the growing senior population in the Fox Valley.
100th Anniversary
2008
In 2008 Valley VNA Senior Services celebrated its 100th anniversary of providing care in the Fox Valley.  Through these 100 plus years, Valley VNA continues to be there to serve our communities, always remembering that your family is our focus.
Neenah Mayor Proclaims Neenah Dementia Friendly Community
2015
Today Mayor Dean Kaufert of Neenah proclaimed Neenah a Dementia Friendly Community! Neenah is building the awareness of Alzheimer's and dementia for better interaction with those served at restaurants, retail stores, the library, post offices, grocery stores and places we all go each day. Thank you Mayor Kaufert!